To register your Quadra installation you must create a customer profile, consisting of your name, email address, phone number, etc., and enter your Quadra license number. You can locate your license number in System Maintenance | Practice Setup by selecting the 'Company' tab. The Quadra license number is formatted as BC-NNNNNNNNNN-NNNNN-NNN and should be entered exactly as shown in Practice Setup, including the dashes.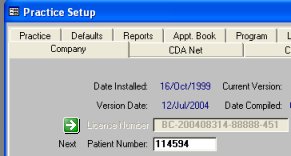 License Number field indicated by green arrow.
All clients who are on the annual Quadra Software Maintenance program are entitled to register and gain access to our support pages. If you are a client and would like to register, please click on the Register Now button.

If you are already registered, please click on the Login button to access the Quadra Support pages.